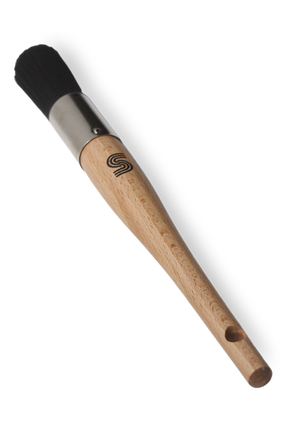 Grinder Brush (254mm/10in)
THROW AWAY YOUR RE-PURPOSED PASTRY BRUSH!
supergood has intentionally designed their grinder brush for the job it supposed to do - clean grinders. A comfortable handle that is the perfect length for home and commercial grinders, and a round-tipped brush that reaches both burr sets and inside most chutes. For the bristles, we have chosen a synthetic filament that is animal friendly and retains shape and elasticity much more effectively than traditional hog hair brushes. Made in the USA. Black Synthetic Polyester Filament.
Bristle Length: 51mm/2in
Bristle Width: 19mm/0.75in
Total Length: 254mm/10in
Bristles are a black synthetic mixture of PET/PBT Polyester filaments with different diameters and lengths, to enhance feel, flex and performance
Seamless, nickel-plated metal Ferrule, made in the USA
Solid European Beech handle, made in Poland and Germany
Threaded, nickel-plated nails for a better hold
Made in the USA
Hooray for your supergood brush!
Inspect your dirty grinder and filthy coffee bar
Get brushing!
standard sweep brush torrington espresso supply