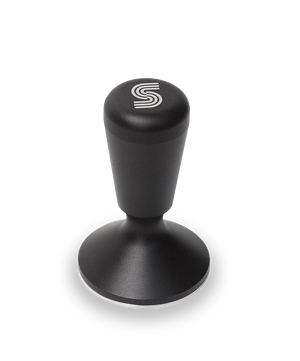 GripTamp™ (58.35mm/2.3in)
GET A PRO GRIP
When you first hold the supergood GripTamp™ you know that it was designed with the professional barista in mind. The easy-to-grip handle has a slip-resistant coating, increasing comfort and confidence in a fast-paced cafe, street-side espresso cart or home espresso bar. The ridge at the base of the handle not only allows a more comfortable holding position but also makes it easier to pick up and provides you with a level reference point for when you are tamping. Its classic shape and deep-black colour scheme will fit in any aesthetic, from modern minimalist to eclectic collector and with spare bases available that are less expensive than buying an new tamper, it's been designed to last a lifetime.
Diameter: 58.35mm (2.3in)
Height: 91mm (3.6in)
Stainless Steel tamp base
Aluminum handle
Made in China
Grip the tamper comfortably, with the handle sitting in the hollow of your palm (as you would grab a door knob) and the shaft of the tamper handle aligned as an extension of your forearm. There's no need to grip the tamper very tight. Hold it loosely and comfortably, keeping your wrist neutral.
Rest the portafilter level on the counter (preferably on a tamping mat so as to not damage the portafilter or the surface). Keeping the tamper level, slowly lower it onto the bed of coffee and press the tamper into the table just until you feel the table pressing back at you. That's it! There's no need for a twist of the tamper or for a second tamp. Also, don't worry if you are pressing hard enough or not. It is better to press consistently and level than to press as hard as you can.
Pro Tip: when tamping, keep your forearm perpendicular to the table and portafilter. This puts less strain on your wrist and makes it easier to tamp level.
super good reallygood superduper barista espresso revolution rattleware st. st antony anton anthon tamper ergonomic ergo erg motta italy wood